Male friend trident5 kicked a
DemocraticUnderground
link my way with the comment, "I am wholly unqualified to offer an opinion on this." Kowing him, I was expecting to find something nerdy/political and bizarre enough that he, one of my Nerd Flock, would be dumbfounded.
Moments after clicking the link, my curiosity turned the corner of Geek Avenue and sped down Outrage Lane.
What trident5 sent me was a link to a scan of a recent Women's Day full-page advertisement for a Summer's Eve product. At first glance, the model is a modernly-dressed woman, so it's clear that this is not a
retro ad
copy.
Click the ad to see the full-sized version. The text is difficult to read, so I replicated it immediately below the ad. Prepare for your own personal
Two Minutes of Hate
: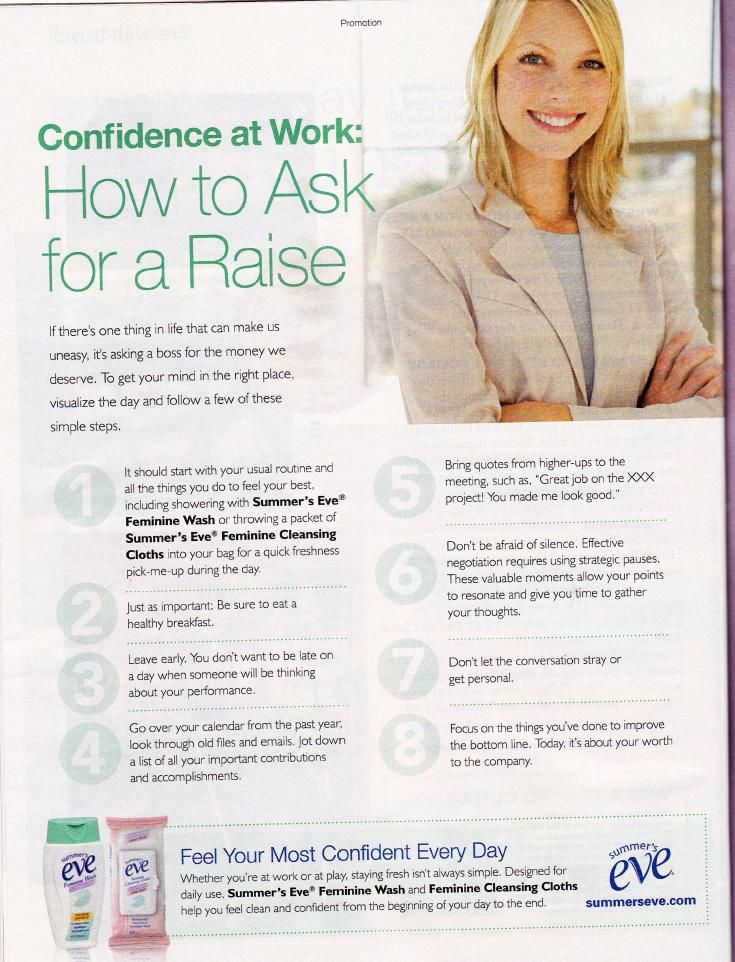 Click the ad to see the full-sized version
Confidence at Work:

It should start with your usual routine and all the things you do to feel your best, including showering with Summer's Eve Feminine Wash or throwing a packet of Summer's Eve Feminine Cleansing Cloths into your bag for a quick freshness pick-me-up during the day.
Just as important: Be sure to eat a healthy breakfast.
Leave early. You don't want to be late on a day when someone will be thinking about your performance.
Go over your calendar for the past year, look through old files and emails. Jot down a list of all your important contributions and accomplishments.
Bring quotes from higher-ups to the meeting, such as "Great job on the XXX project! You made me look good."
Don't be afraid of silence. Effective negotiation requires using strategic pauses. These valuable moments allow your points to resonate and give you time to gather your thoughts.
Don't let the conversation stray or get personal.
Focus on the things you've done to improve the bottom line. Today, it's about your worth to the company.

Feel your most confident every day




Whether you're at work or at play, staying fresh isn't always simple. Designed for daily use, Summer's Eve Feminine Wash and Feminine Cleansing Cloths help you feel clean and confident from the beginnning of your day to the end.
How do I hate thee? Let me count the ways.
Which I will do in a later post after I manage to reclaim my brain.
Feel free to comment or submit your impressions before I make my second post.
~Riot.Jane